BIRTHDAY PARTIES
CELEBRATE YOUR LITTLE ONE IN HARMONY!
Our simple, stress-free birthday parties are meticulously designed to thoroughly engage and celebrate your child turning 1 to 5—without the overstimulation so often associated with parties. Harmony celebrations are intentionally small, intimate, and just the right amount of time for this age group—allowing you, your family, and your child's closest friends to joyfully focus on the birthday boy or girl and the love and support that bring you to this milestone together, while we manage the details.
CHOOSE YOUR PARTY:
Your party flows through open play, welcome circle, your chosen Harmony-led activity, more open play, and the finale: your birthday cake celebration. Beside your child's gift table in our foyer, we arrange any favors for departing guests to take. $295 *Except where noted

ALL PARTIES INCLUDE:
• 90 minutes of exclusive Harmony time
• 8 participating children (add $10 per additional child)
• younger siblings & adults
• tablecloths, plates, napkins, cups, utensils & full setup/cleanup

Fairy Treasures Birthday Party
Listen to an enchanted fairy story, and choose tiny treasures to create a fairy garden to bring home and wait for your own fairies to visit. *$325
Paint & Collage Birthday Party
Little artists blend painting & collage using unexpected materials, creating richly textured canvas pieces.
Make-Your-Own Pizza Birthday Party
Little chefs make personal pizzas, safely veggie-chopping, dough-rolling, & pizza-building.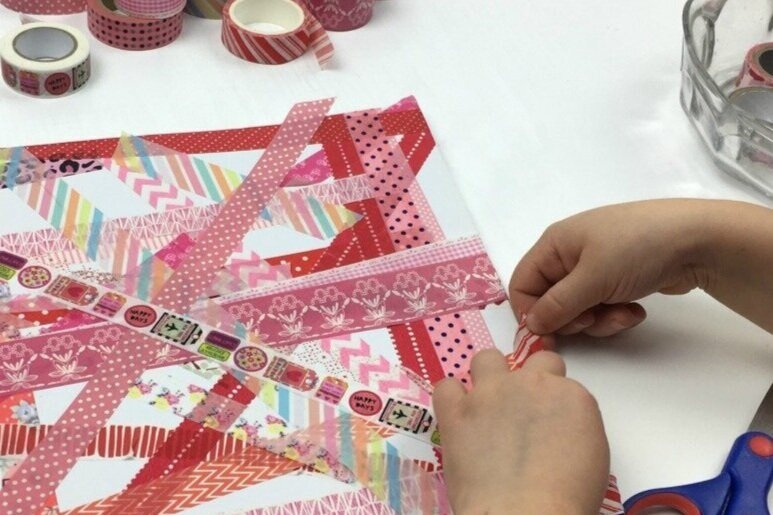 Washi Tape & Watercolors Birthday Party
Using watercolors & natural-fiber sustainable washi tape, little artists create canvas art pieces for home.
Pancakes & Pajamas Birthday Party
Little chefs make pancakes—measuring, mixing, & topping with berries, bananas, maple syrup, and/or chocolate chips!
Simplicity Birthday Celebration
Perfectly simple: a relaxing morning of your child's customized open play experience surrounded by loved ones. An ideal option for children turning one or two—particularly those without older siblings. *$250
ADD YOUR FAVORS:
• Design-Your-Own Apron +$5.50/ea
• Watercolor Set +$3.50/ea
• Polished Gem Pouch +$5.50/ea


YOU'RE INVITED TO BRING:
Nut-free cake, snacks, boxed coffee, balloons, and any special decorations.
Contact us to learn more or plan your customized Harmony birthday party!
Birthday parties typically planned Saturdays at 10am and 1pm. Other days/times schedule-permitting.